How does a Curve card work?
Like the idea of Curve, but not really sure how it works? Keep reading. Curve might look like another bank card in your wallet, but we're not actually a bank at all. We connect and supercharge the cards you have already to make them work better together – levelling up the way you spend, save and manage your money.
When you download the Curve app, select the Curve card that's right for you and fill your digital Curve Wallet with cards. Debit cards, credit cards and crypto cards are accepted.* You can even add your loyalty cards, so they're all in one place too. All cards in your Curve Wallet will be connected to your physical Curve card so you can spend and withdraw money from any account with just one card.
*Terms and conditions apply.
Smarter than a digital wallet
Once you've loaded your cards onto your Curve Wallet, simply tap the card you want to pay with in the app and use your physical Curve card to pay. Or, you can start using Curve straight away by paying with your phone or smartwatch. Any card you have in your Curve Wallet will be compatible with Google, Apple, Samsung and Huawei devices, even if your bank or credit card doesn't support them yet. Having your cards connected in one place makes your wallet lighter and payments simpler. But it's more than just a digital wallet. When you pay with Curve, you access a whole new world of control, insights and security when it comes to your finances.
More control
The more you pay with Curve, the more you can do with your money.
Curve Flex: Free up cash and control your cashflow with Curve Flex. You can go back and split pretty much any transaction from the past year into monthly instalments. We'll refund that transaction straight away and you can pay back at your own pace 30 days later. Over 3,6,9 or 12 months. Perfect for life's more expensive surprises. And at 14.8% APR representative, you will pay back less than a typical credit card.
Go Back in Time: If you pay on the wrong card, you can literally Go Back in Time and switch the payment from one card to another, up to 30 days after the payment's been made. You can also go back and switch past payments onto your credit card if you need to free up funds in your current account.
Anti-Embarrassment Mode: Stop declines in their tracks with Anti-embarrassment mode. This allows you to set up backup cards. So if the card you're trying to pay with gets declined, we'll try your backup card automatically.
More security
Curve gives you an extra layer of security over your money. Because you only have to carry one card, If you lose it, all your other cards remain safe. You can lock and unlock your Curve card instantly, so if it is lost or stolen, you only have to cancel and reorder one card, not your whole wallet. Curve also gives you customer protection on your purchases up to £100K. Which means if you get scammed or an online order doesn't shows up, we can help you get your money back. Live notifications also help you detect fraudulent transactions in real time.
More insights
Always wonder where your money goes at the end of the month? Curve insights give you the full picture with a timeline of everything you've spent across every card in your wallet. We also give you categorised breakdowns of what you spent your money on so you can budget more effectively for the future.
Is Curve a debit card?
Yep. It's a Mastercard debit card, and you can use it like you would any other debit card, anywhere Mastercard is accepted, worldwide. It doesn't hold on to funds like a traditional bank card, and there's no need to top up your card every time you need to make a purchase. Because Curve is a debit card, you can use it to pay a credit card bill with another credit card using Curve Fronted. It's simple – just head to the app and turn on 'Curve Fronted' and we'll take care of the rest. This carries a 1.5% fee for Curve customers, but is free if you have Curve Metal.
Does Curve carry out a credit check?
Curve doesn't do a hard credit check. A soft credit check is carried out to verify your identity and prevent fraud and money laundering. This won't affect your credit score.
How does Curve Cashback work?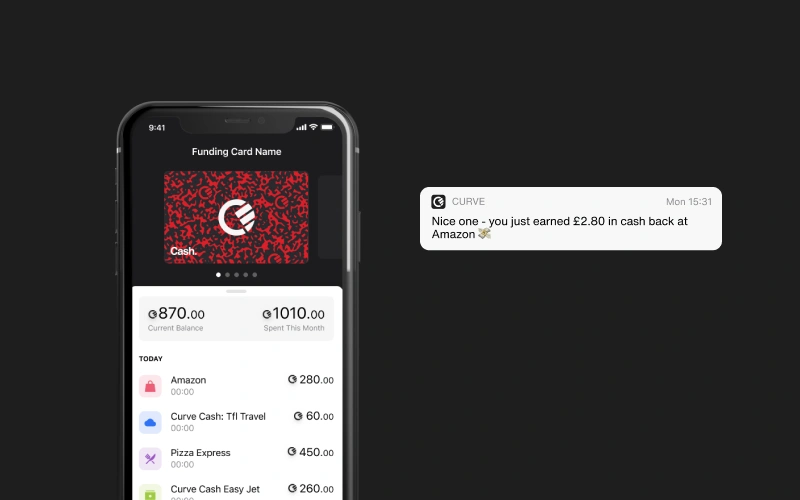 Shop smarter with Curve Rewards and earn up to 20% cashback on the side. We'll feed you regular cashback offers from top fashion brands, travel sites, hotels, and more.
Curve Cash doesn't work quite like the paper stuff, but you can spend it just like the real stuff through Curve. Cashback is earned either in Curve points or e-money but your balance will always be shown in real currency. 1 point = £0.01. Cashback earned through 1% cashback or promotional activity is given in points. Cashback earned through Rewards may vary. If a refund is given in Curve Cash, it will always be given in e-money. Points can expire after 6 months while e-money is safeguarded and never expires.
Upgrade your Curve experience to get even more cashback:
Curve Black: Get 1% cashback at 3 retailers, for as long as your subscription lasts

Curve Metal: Get 1% cashback at 6 retailers, for as long as your subscription lasts
Hot tip: To make the most of cashback with Curve Metal or Black, choose retailers where you spend the most money, rather than where you shop most often. Like, you might go to McDonald's once a week and spend £10. But if you're planning on buying a new Apple Mac laptop, you'll earn more cashback in that one transaction than a year's worth of McDonald's. We know which Big Mac we'd prefer.
Can I trust Curve?
At Curve, we work hard to protect the safety, privacy and financial security of all of our customers. We have a large team working to ensure our systems are safe and secure for all. We built Curve with your security in mind. We don't store your card numbers in our app or on your device.
And as an FCA-regulated financial institution based in the UK, we make sure we're careful about everything we do. We have to comply with strict anti-money-laundering (AML), data protection (GDPR), and payment industry (PCI-DSS) regulations, and have regular third-party audits to make sure we're protecting you properly.
Find out more about what Curve does to protect your data and your money here.
Sold on Curve? Download the app

Curve UK Ltd, registered in England and Wales, #09523903
Copyright - 2023 © Curve UK Limited.
The Curve Card, the Samsung Pay+ and the E-money related to these cards is issued in the UK by Curve UK Limited, authorised and regulated by the Financial Conduct Authority to issue electronic money (firm reference number 900926). Curve UK Limited is registered in England and Wales, United Kingdom (company reference number: 09523903) and located at 1-10 Praed Mews, London, W2 1QY.
Curve Flex is provided in the UK by Curve Credit Limited. Curve UK Limited is an introducer appointed representative of Curve Credit Limited, which is authorised and regulated by the Financial Conduct Authority (firm reference number 925447). Curve Credit Limited is registered in England and Wales, United Kingdom (company reference number: 12464458) and located at 1-10 Praed Mews, London, W2 1QY.
The Curve Card and the e-money related to cards issued in the EEA is issued by Curve Europe UAB, authorised in Lithuania by the Bank of Lithuania (electronic money institution license No. 73 issued on 22 of October, 2020). The Curve Card and Samsung Pay+ are issued pursuant to license by Mastercard International Inc. Mastercard® is a registered trademark of Mastercard International Incorporated. Curve Europe UAB is registered in Lithuania (company reference number: 305626541) and located at Jogailos g. 9, LT-01116 Vilnius.