Earn as you spend
One-of-a-kind digital wallet that empowers you to maximize rewards from your existing cards and gives you extra cash back or crypto.¹
For illustrative purposes only
Scan the QR code to download Curve app
Open your smartphone camera and point it to the QR code, click on the link generated to download the app
Simplify the way you pay by combining your cards into one smart credit card
Get on top of your finances

Build your cashback empire
Maximize rewards on top of your existing card rewards.
Earn rewards on top of your credit cards
Earn Curve rewards in addition to those provided by your credit cards. Everyone starts with 1% cash back.²
Earn rewards even with your debit cards
Is there a way to get cashback with your debit card? Of course. Just spend with your linked debit card using Curve and we will give you cash back.²
Choose to earn your curve rewards in crypto.
Earn 1.0% additional rewards in a crypto of your choice on every purchase with Curve.¹
Supercharge your cards
Other digital wallets could never do.
SToP DECLINES.
Curve will step in automatically if your selected card doesn't go through. Simply pay your monthly statement in full to avoid any interest charges.²
Go Back in Time®
Did you ever pay with the wrong card? Do you ever need to free up cash? Switch charges from one card to another up to 30 days after the transaction when using curve.²
Tell Your Money Where to go
Smart Rules puts your money on autopilot. Choose a card you want to use for a specific type of spend, like categories or certain currency amounts, and the payments will automatically be taken from there. No need to change the payment card manually. Don't think twice when paying with Curve.²
Keep your cashflow crystal clear
See all your spending in Curve
No more spreadsheets
See what you're spending on all your accounts at once with Curve. See a categorized breakdown of your spending across all your cards on curve.
See your spend per week, month, and year
Filter your spending views as you need manage your cashflow like a pro.
Sound interesting? Download Curve!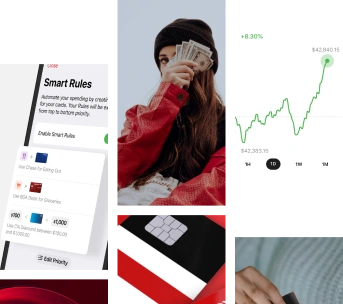 Scan the QR code to download Curve app
Open your smartphone camera and point it to the QR code, click on the link generated to download the app